Mods are items that can be applied to weapons to receive various benefits. They are applied to weapons in the Weapons menu, which is found in the Unlocks tab.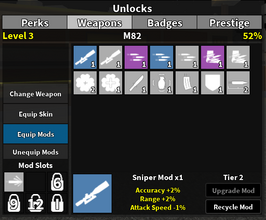 Mods can be obtained by finishing waves on any difficulty; the higher the difficulty, the higher the chance a mod will drop upon a wave completion. Similarly to Perks, every weapon has a specific number of mod slots that can be increased by either leveling the weapon up (1 slot every 3 levels, up to Level 12) through gameplay or by beating Wave 30 on Impossible mode. Unlike perks, once you install a mod, the only way to remove it and place it back in your inventory is to pay 49 ROBUX. You can replace an installed mod with another, but doing so will destroy the replaced mod.
When a mod is received, both the tier and the type of the mod are randomized, with higher tiers being rarer. Every mod has five tiers, with higher tiers providing stronger bonuses. All mods can both positively and negatively impact a weapon; negative effects are only seen starting with Tier 2 mods. Some mods can only be applied to specific types of weapons, and no mod can be applied to utility or consumable items. You can upgrade a mod to a tier higher if you own 4 of the same mod of the same tier. Recycling a mod gives 2 random mods of a tier lower.
It can be assumed that the formula for mod bonuses is PositiveStat*Tier & NegativeStat*(Tier-1).
Mod Name
Tier 1 (White)
Tier 2 (Blue)
Tier 3 (Purple)
Tier 4 (Red)
Tier 5 (Orange)
Incompatible with
Sniper Mod
Accuracy +1%

Range +1%

Accuracy +2%

Range +2% Attack Speed -1%

Accuracy +3%

Range +3% Attack Speed -2%

Accuracy +4%

Range +4% Attack Speed -3%

Accuracy +5%

Range +5% Attack Speed -4%

Melee Weapons
Hose Mod
Attack Speed +1.2%
Attack Speed +2.4%

Damage -0.75%

Attack Speed +3.6%

Damage -1.5%

Attack Speed +4.8%

Damage -2.25%

Attack Speed +6%

Damage -3%

N/A
Speed Mod
Attack Speed +1.5%
Attack Speed +3%

Velocity -2.5%

Attack Speed +4.5%

Velocity -5%

Attack Speed +6%

Velocity -7.5%

Attack Speed +7.5%

Velocity -10%

Hit-scan Firearms
Lucky Mod
Critical Chance +0.67%
Critical Chance +1.34%

Damage -0.75%

Critical Chance +2%

Damage -1.5%

Critical Chance +2.67%

Damage -2.25%

Critical Chance +3.34%

Damage -3%

Projectile Firearms
Unlucky Mod
Critical Damage +2.5%
Critical Damage +5%

Critical Chance -0.5%

Critical Damage +7.5%

Critical Chance -1%

Critical Damage +10%

Critical Chance -1.5%

Critical Damage +12.5%

Critical Chance -2%

Projectile Firearms
Heavy Mod
Damage +1%
Damage +2%

Attack Speed -0.75%

Damage +3%

Attack Speed -1.5%

Damage +4%

Attack Speed -2.25%

Damage +5%

Attack Speed -3%

N/A
CQB Mod
Damage +1.2%
Damage +2.4%

Range -1% Accuracy -1%

Damage +3.6%

Range -2% Accuracy -2%

Damage +4.8%

Range -3% Accuracy -3%

Damage +6%

Range -4% Accuracy -4%

N/A
Glass Mod
Damage +1%
Damage +2%

Resistance -1.25%

Damage +3%

Resistance -2.5%

Damage +4%

Resistance -3.75%

Damage +5%

Resistance -5%

N/A
MOAB Mod
Damage +0.5%

Explosive Radius +0.5%

Damage +1%

Explosive Radius +1% Attack Speed -0.625% Reload Speed -0.625%

Damage +1.5%

Explosive Radius +1.5% Attack Speed -1.25% Reload Speed -1.25%

Damage +2%

Explosive Radius +2% Attack Speed -1.875% Reload Speed -1.875%

Damage +2.5%

Explosive Radius +2.5% Attack Speed -2.5% Reload Speed -2.5%

Non-explosive Weapons
Ammo Mod
Magazine Size +1%

Max Ammo +1%

Magazine Size +2%

Max Ammo +2% Reload Speed -1.5%

Magazine Size +3%

Max Ammo +3% Reload Speed -3%

Magazine Size +4%

Max Ammo +4% Reload Speed -4.5%

Magazine Size +5%

Max Ammo +5% Reload Speed -6%

Melee Weapons
Greed Mod
Money +1%
Money +2%

Damage -0.5% Attack Speed -0.5%

Money +3%

Damage -1% Attack Speed -1%

Money +4%

Damage -1.5% Attack Speed -1.5%

Money +5%

Damage -2% Attack Speed -2%

N/A
End Mod
Damage +0.5%

Attack Speed +0.5% Reload Speed +0.5%

Damage +1%

Attack Speed +1% Reload Speed +1% Money -1.5%

Damage +1.5%

Attack Speed +1.5% Reload Speed +1.5% Money -3%

Damage +2%

Attack Speed +2% Reload Speed +2% Money -4.5%

Damage +2.5%

Attack Speed +2.5% Reload Speed +2.5% Money -6%

Melee Weapons
Swift Mod
Reload Speed +1.2%
Reload Speed +2.4%

Magazine Size -0.625%

Reload Speed +3.6%

Magazine Size -1.25%

Reload Speed +4.8%

Magazine Size -1.875%

Reload Speed +6%

Magazine Size -2.5%

Melee Weapons
Tank Mod
Resistance +1%
Resistance +2%

Attack Speed -1%

Resistance +3%

Attack Speed -2%

Resistance +4%

Attack Speed -3%

Resistance +5%

Attack Speed -4%

N/A
Velocity Mod
Velocity +3%
Velocity +6%

Damage -0.625%

Velocity +9%

Damage -1.25%

Velocity +12%

Damage -1.875%

Velocity +15%

Damage -2.5%

Hit-scan Firearms